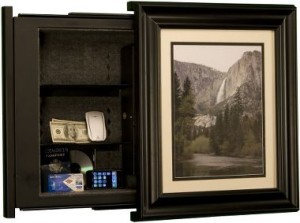 Sleek, secure, and safe; The Secure Logic Wall Safe with a remote entry is ideal for every home or office. Keep your prized possessions protected at all times and effortlessly amp up your decor in the process!
It's safe to say why the Secure Logic Wall Safe With Remote Entry is our August product of the month. The Secure Logic is incredibly easy to use, remote operated and boosts instant access. The vault door slides swiftly open to reveal an ample sized storage compartment located behind the frame facade. Its composition is solid, commercial-grade construction and fits between two 16-inch studs.
The Secure Logic Wall Safe is completely customizable. The picture in the frame can be changed to any 12″ x 16″ or 16" x 20″ photograph or print of your choice! The safe's three shelves are adjustable and it's door can be modified to slide left or right for ultimate user preference.
This safe is picture perfect! Call us to order yours today at 410-213-8477!