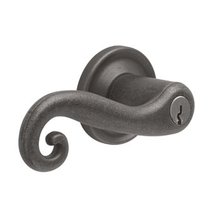 The Right Handed Scroll Lever is a keyed entry set that is locked or unlocked by a key on the outside and a turn button on the inside. There is an emergency exit function that allows the inside lever to turn, while the outside lever remains locked. Allowing someone to exit through the scroll lever but not enter. The only way one can lock or unlock the lever from outside is with the correct key.
Baldwin products feature the highest quality and craftsmanship that has been respected for generations. Baldwin only crafts the best products to represent their brand which is why we recommend and carry their inventory. This specific product is polished and finished by hand! The finishes match those of other Baldwin products to keep consistency and balance so customers can use other Baldwin products simultaneously. The product also features solid forged construction that is done in the centuries old European tradition! Using solid forged brass gives the Right Handed Scroll Lever maximum strength to keep your doors securely locked. The security latches are crafted for exceptional durability and smooth operation for your ease.
The Baldwin 5250.RENT Right Handed Scroll Lever is equipped with an adjustable backset latch 2-3/8" to 2-3/4" Backset. Door Thickness 1-3/4" or 1-3/8" is best. This lever is also available in Left Hand.
The Baldwin 5250.RENT Right Handed Scroll Lever can be yours today. Give R.J Lock & Security a call at 410-213-8477and order yours!