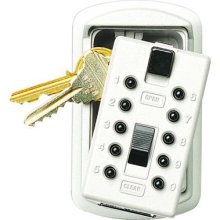 Let's be honest, finding a clever hiding spot in the backyard to stash you spare keys isn't the safest security system. Now with the GE Security Digital Key Safe you can ditch the fake rock, and take the keys out from under the mat, and place our spare keys safely and securely in this sleek device.
We at R.J. Lock & Security chose to feature GE's Digital Key Safe as our February product of the month because its unique set of features sets it apart from the rest. This key box has an electronic time stamp enabling you to record and track the last 9 access events. Its sleek yet simple design allows it to keep a low profile. Its solid weather-resistant, metal construction ensures that it will be keeping your keys secure through the coldest, wettest months for years to come. Furthermore the easy-to-use- one-hand slide operation provides quick access.
Everyone forgets their keys sometimes, but with the GE Security Digital Key Safe 001864 you, and only you, will have fast access to your spare keys and your home.