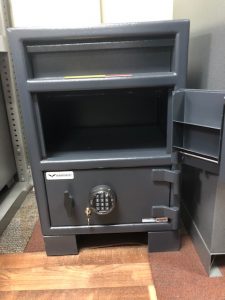 Cash is king in any business. Have better control over your cash with this two-door depository safe. These safes are built to help any business achieve total cash control. The American Security MM2820 Top Drop Two Door Cash Management Safe is top of the line and perfect for your business.
Safety features include 1/2" solid steel plate door, ESL15 E-locks with time delay, coin racks, auto locks, and dual compartments to keep money and documents safe and organized. Plus, the Top Drop mailbox deposit feature is perfect to keep your assets safe, and your business moving.
Measurements: 8H x 20.5W x 20D
Weight: 274lbs
Give us a call today at 410-213-8477 for more information and details.