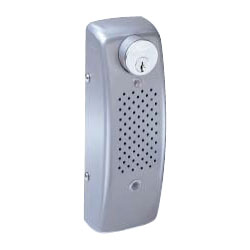 Don't let fear in or out of your home or business. Stay safe, secured and protected with this month's featured product, The Arrow 100 Series Exit Alarm. Ensure your peace of mind at all times with this high-powered alarm system. The Arrow 100 Exit Alarm is the ideal alarm for your home, office, or workplace. Great for home security and/or customer service needs.  
The Arrow 100 Exit Alarm perfectly notifies users of unauthorized exists and is just as useful as products that alert users when doors are opened, and for entrance into monitored areas. This alarm system blends flawlessly in with your home or business decor and offers a unique selection of different powder coated finishes.
This state of the art security system offers a push button test to determine available battery power and tamper-proof screw sets unit into alarm unit upon unauthorized removal of the cover.
Perfect for inward or outward swinging doors with 4" minimum stile. 9 volt in power, This high powered alarm features a piercing, high-frequency horn that sounds for 2 minutes, shuts off then automatically rearms itself.
Stay safe and secure all summer long with the Arrow 100 Series Exit Alarm. Call us to order! 410-213-8477