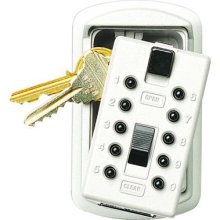 Are you seeking to fully secure your keys? Holding up to five keys, The GE Security KeySafe Original is the perfect solution for reliable security.
Luckily, this product attaches securely to any wall or flat surface; ensuring reliable security at any convenient location.
Hiding spare keys easily turns into a security hazard; avoid the troubles of losing your keys by utilizing the devices StrongBox Design and included security key-pad.
Available in Black, White, Dial, Mortise, & Push
StrongBox Design
Included Password Key-Pad
Holds up to 5-Keys