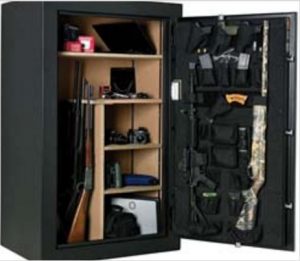 This hunting season don't skimp on security, instead spend on safety. Keep your firearms safe and secure in August's Featured Product of the Month: The Amsec TF Series TF6036. At 59″H x 36″W x 26″D 3/16″ (outside dimensions):, weighing in at whopping 618 lbs (*free fright*) this maximum security safe boasts a 40 max gun capacity, 30 minute fire protection, AND is DOJ approved for the budget conscious.
The Amsec TF Series TF6036 is sleek, secure, fully-functional, and features top-of-the-line fire protection. TF safes are constructed with a 3/16″ steel plate door, 14-gauge body, and fire insulating material that will keep your collection completely safe. Designed to maintain an interior temperature of less than 350 degrees. This product features: two stage dual fire seals with a silicone seal on door jamb and expandable palusol seal on door. All models come standard with a Premium Door Organizer to maximize your storage space and offer additional storage for two long guns or assault rifles.
It's lock is key-changeable, has a spy-proof dial, internal relocker, and boasts a drill resistant hard plate. The handle is a 3-point chrome tri-spoke and the boltwork is a 4-way that features five active 1-1/4″ chrome-plated bolts and three deadbolts. It's ball bearing hinges are completely adjustable and the Amsec TF Series TF6036's textured black exterior and mocha fabric interior makes this safe both an an aesthetically pleasing and effective purchase.
Four pre-cut anchor holes with mounting hardware are included and one pre-cut electrical access hole comes standard.
With great features and at an even better value it's clear as to why consumers and gun-owners alike love the Amsec TF Series TF6036! Call R.J Lock & Security at 410-213-8477 and order yours today!