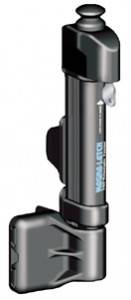 Maintain your peace of mind all the time with the Magna-Latch Vertical Pull Safety Gate Latch. This compact magnetic latch is ideal for all seasons and is completely adaptable to fit any gate. The shorter top pull model is just perfect for keeping swimming pools safe and makes an excellent pet gate for backyards and private areas. The Magna Latch features swift, quiet, and reliable latching action with no mechanical resistance to closure.
It's safe to say why the Magna-Latch Vertical Pull is our September product of the month. Being both incredibly easy to use AND highly child resistant. A magnetic trigger prevents jamming or sticking whilst operating. The Magna-Latch also boasts both easy an installation and removal process. It is key lockable and tested to 400,000 cycles with a lifetime warranty. Its built-in lock is included with a key, although this product includes the latch only. Hinges are not included.
Standard fits square post and gate frame on all ornamental and vinyl styles of fence and adjusts from a 3/8″ to 1-7/16″ space between gate frame and post (1-1/2″ to 2″ gaps with optional spacer). Available extras include an optional adaptor kit, round post adapter kit, round post, and gate frame adapter; adjustable to fit up to 2″ latch side space between the gate post and gate frame.
A leading lock in swimming gate safety, meeting strict international safety codes with ease; the Magna-Latch Vertical Pull is revolutionary and steadfast. No amount of shaking, pushing or pulling will disengage The Magna-Latch Vertical Pull. Call to order this incredibly reliable product today at 410-213-8477!