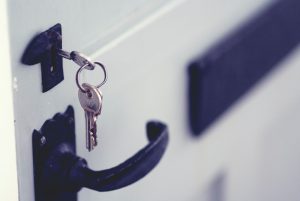 Many people don't expect to ever have the need for a professional locksmith until they're in an emergency situation. At R.J. Lock & Security, we've responded to thousands of locksmith requests over the years, all of them where the client did not think they would have to make the call. Allow us to review the top five scenarios where we get the call, and our experienced locksmiths are needed! 
When You've Lost Your Keys
We all misplace our keys from time to time! But what happens when you're coming back from a long trip, and can't find your keys anywhere? Let's say that the airport shuttle just dropped you off at your vehicle, and you can't seem to find your car keys in any of your bags. Or, you've just got to the front door of your home only to discover that your house keys are missing. Either you never brought your keys in the first place, they're locked inside, or you misplaced them along the way. In either of these situations, you'll most likely find yourself needing a locksmith! 
When Your Home is Broken Into
Does it look like someone has forced themselves into your home? Whether it's a front door, back door, side door, a door to your garage, or any other entry point, getting a locksmith to your home as soon as possible is a great idea. You may not know who tried to break in or why. In this situation, side with caution and have your locks changed and rekeyed. Contact a residential locksmith to handle the situation right away. 
When You've Locked Yourself Out of Your Car
Who hasn't locked themselves out of their car once or twice before? Let's say you just completed a long list of errands and need to get home quickly, but you get to your car and your keys are missing. This very common occurrence is just one other reason that you'll want to call a locksmith. No one is happy when they accidentally lock themselves out, but it happens, and when it does, we're here to help! 
When Your Lock Breaks
What happens if your lock breaks and your key doesn't work anymore? A broken lock may prevent you from entering your own home, leaving you in a very vulnerable position. If this happens to you, you'll find yourself needing a locksmith, and fast! 
When A Key Breaks in Your Lock 
It's always a pain when your key breaks in your lock, but it does happen! Not only do you find yourself with a door that won't open, or one that won't lock, but now you have a piece of metal stuck inside your suddenly unusable lock! Trying to fix it yourself may only damage your door further. In this scenario, call a locksmith that has the right tools to help you when a piece of your key gets stuck in the lock! 
Contact R.J. Lock & Security for Reliable Service
Whether it's an emergency or not, if you need a reliable locksmith to fix your lockout situation, you can trust R.J. Lock & Security to handle the job. Our professional and trained team of locksmiths will handle any residential or commercial locksmith service in a timely manner, getting you inside your home, or on the road, in no time. 
As a full-service locksmith company, we are well-versed in the technology that you need, and always have the best tools for the job. For reliable service, contact the experts at R.J. Lock & Security today!