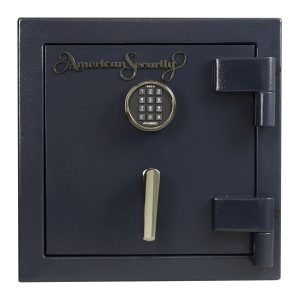 When it comes to securing your belongings, the American Security AM Model Safe series is what you've been looking for. Designed with a focus on security and reliability, these safes are tailored to provide an exceptional level of protection for your valuables. R.J. Lock & Security recommends only the best safes for our customers. Check out what qualities give the AM Safe series our seal of approval!
AM2020 Safe
The AM2020 is the most compact option of the AM models. This is perfect for those who require a secure storage solution for smaller valuables and personal items. The safe weighs 180 pounds with one shelf, for safe belongings. The ETL-verified 45-minute fire protection is a common trait of all three AM safes in the series. 
AM3020 Safe
The AM3020 Safe is a step up in size and capacity. The size is ideal for individuals seeking a balance between security and storage space. With room for your valuables, important documents, and more, the AM3020 is sure to be reliable. The AM3020 weighs in at 230 pounds making it secure from theft and the two shelves in the plush velour interior keep your things organized.
AM4020 Safe
Let's explore the AM4020 Safe, a spacious and secure storage solution. With increased storage capacity from the others in the AM series, this safe is designed to accommodate larger items while maintaining similar exceptional security features. The U.L. listed electronic lock offers ease of access, with an illuminated keypad. As this safe is the largest of the three, it is also the heaviest at 316 pounds.
All American Security AM Model Safes prioritize security as their core principle. These safes have advanced security measures such as drill-resistant hard plates and additional fire-resistant layers to keep your valuables protected. Plus, the textured finish and exterior of these safes help them blend seamlessly into your living spaces.
Call or stop by the R.J. Lock & Security office to find the safe that's right for you!