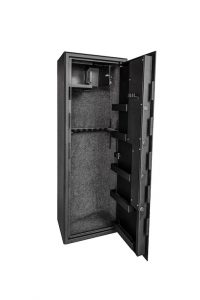 Are you looking for the best quality safe for your valuables? R.J. Lock & Security provides only the best safe brands for our customers, including American Security. With a large variety of safes for all of your needs, the expert team at R.J. Lock is happy to help you find the American Security safe that's right for you.
For your residence, business, cash, valuables, or firearms, we know that American Security is a reliable brand to lean on. Check out why R.J. Lock trusts this brand to provide for our customers, and what kinds of safes they offer. 
American Security History 
The renowned provider of security safes and security solutions has been around for over 75 years, dedicated to providing for the unique security needs of customers in the US and around the world. American Security manufacturing uses state-of-the-art technologies and they hold the industry benchmark for quality control.
The product line is extensive and has something for every need. Custom safes can be provided for businesses and cash-handling industries for ample protection of your valuables in all aspects of life.
Types of Safes Offered
Vault Doors

Long Gun Safes

Pistol Handgun

Hidden

Bedside/Nightstand

Home Defense
Personal Safes

Digital/Electronic

Small/Compact

Floor Safes

Under Bed Safes
BF Security Safes

CSC Series

AM Series
Smart Safes

Depository Safes

Utility Safes

Floor Safe Square

Floor Safe Round
These are just a few of the many options available to you through R.J. Lock & Security. Visit us to check out some high-quality safes in person and get expert help on safe sales and service. When it comes to keeping your valuables secure, trust R.J. Lock, proudly securing the shore for over 30 years!