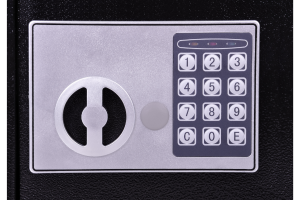 Are you trying to choose which lock is right for your safe? With the abundance of options, it's good to do your research and speak with the experts at R.J. Lock & Security when planning to secure your valuables. Whether it's a standard key lock, combination lock, electronic keypad, or even a biometric lock, there are pros and cons to all of them.
Check out the basics that you need to know about each kind of lock and see which one works best for your needs. Contact the R.J. Lock & Security experts in the Delmarva area to help you decide and find the right safe!
Different Types of Safe Locks
Key Locks
Key locks are the most straightforward and simple options when it comes to locking your safe. A manual safe lock is a durable and high-quality choice, perfect for home or small business safes. If you ever have trouble remembering numerical passcodes and combinations, this is the right choice for you. Plus, the manual safes often come with at least two keys for peace of mind in case you misplace yours!
Electronic/Digital Safe Locks
Electronic safe locks can utilize a variety of different features to secure your safe. For these digital locks, you simply enter the correct code on the keypad to open them. They are ideal in situations where carrying around the key would be troublesome and the code can be customized for easy memorization. These electronic keypads can also have increasingly advanced features like locking out after so many tries, courier overrides, and even keeping track of when it was last opened. 
Combination Locks
The classic combination lock can have so many possible combinations that it will be near impossible for anyone to crack the code. The dial works through different wheels on the inside of the lock that make up numbers in the combination. It is common for many safes to have and it is also a reliable method of locking up your valuables. 
Biometric Safe Locks
Biometric safe locks are popular in movies and TV shows, but they are also around for you to use on your safe. Simply scan your fingerprint to unlock the safe—it's a key you can't lose! No one who isn't authorized will be able to access the safe because fingerprints are unique to each person. Although these types of locks will usually include an override key for good measure in case the electronic components break somehow. 
Have an idea of what you need for your safe? Contact R.J. Lock & Security for more information and stop by our office to get the best safe for you!