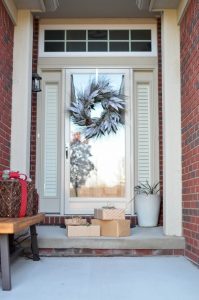 As the holiday season approaches, it's important to consider these home security tips. While you're out and about traveling, shopping, or spending time with family and friends, is your house secure? Statistically, home burglaries increase around this time of year and not everyone is in the holiday spirit.
While it's important to be vigilant, you shouldn't be afraid because R.J. Lock & Security has these home security tips to help keep you and your belongings safe.
4 Ways to Secure Your Home During the Holidays
Install High-Security Locks
How secure are your locks? Consider our Medeco brand locks on ALL doors for the highest security possible. Medeco is a market leader in high-security key systems and cylinders and makes sure that no unauthorized keys can be made and used.
When was the last time you rekeyed the locks on your home? If you haven't rekeyed the locks since the house was purchased, there is no way of knowing how many existing keys are in circulation. Rekeying is also a good idea if you've had roommates move in and out of the house.
Buy Safes for Your Valuables
R.J Lock sells and services safes of all sizes, fire rating, and burglary protection. From American Security, Liberty, and Gardall, we can find a safe that works best for your needs and budget.
If an exterior door doesn't already have a deadbolt, consider having us professionally install one. Rather than having one lock protect the door, having a deadbolt installed provides an extra layer of security. 
We hope you all have a safe and happy holiday! For more ways to keep your home secure this holiday season, contact the experts at R.J. Lock & Security today with any questions.