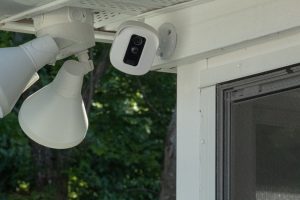 We hope you've had a relaxing summer wherever you choose to vacation! Having a vacation home is lovely to spend time at and enjoy with family and friends. But what about when you're not there? Maintaining a vacation home while not living there full time can be stressful.
At R.J. Lock & Security, we're here to help keep your property safe whether you're there or not. Our team has been proudly securing the shore for over 30 years and we have tips from our experts on the best way to secure your vacation home.
3 Tips for Vacation Home Security
Medeco High-Security Key System
Our number one tip adds several layers of security to your home with our specialized key system. Our team at R.J. Lock works with Medeco, the market leader of high-security key systems, to install hardware that only we can buy. The key blanks are unique to us and only authorized people can get copies of the key made. These systems protect your home AND protect against unauthorized duplication of your keys.
While this might be a no-brainer, double-checking that windows and doors are properly locked and secured is an important step. If locks are old and rusty, they may not be as efficient. R.J. Lock & Security has a team of experts willing to help with the installation, replacement, and upkeep of locks and keys to make it as difficult as possible for burglaries to force their way into homes. Deadbolts should also be placed on all external doors for another layer of security. 
Make the House Look Occupied
A clearly vacant house is a prime target for home invaders. It's important to make your home look lived in even when you're not there. Make sure mail and newspapers are collected to prevent them from piling up and keep the yard from becoming overgrown. Pro Tip: Automatic timers on lights are a great way to shine some light on the house and keep unwanted visitors away.
At R.J. Lock & Security, your needs are our priority! Check out all the residential services we offer to help secure your vacation home and contact us today with any questions.