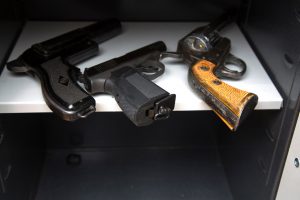 R.J. Lock & Security provides the best quality safes available for our customers. One of our most popular brands includes Liberty Safe with a wide variety of safes and safe accessories that we are happy to offer in our store. Keep your valuables secure with R.J. Lock safe sales and service.
So what can you expect from Liberty brand safes and accessories? Keep reading as we dive into the Liberty safe brand and the variety of products they offer, to find the right sale for you.
Liberty Safe History
Founded in 1988, Liberty Safe's priority was creating high-quality gun safes. Since its expansion over the years, the company has been able to continue its high-quality production on a larger scale, producing up to 700 safes a day in its Utah facility.
The innovation and technology used by this American-made company have helped them to stand out from the competition. Some of these innovations include industry-leading fire protection after subjecting the manufactured safes to a number of actual fire tests. Military-style locking bars increase security and overcome the weak points presented by round bolts that many other safe companies use. 
The manufacturing process also contributes to the benefits of a Liberty safe. American-made steel is used to create the highest quality safes. Additionally, roll-form and door-bending technologies mean that fewer pieces of steel are used and result in fewer welds, making a stronger safe overall.
Types of Safes Offered
Liberty Safes

Ranging from level 1 security through level 8.

Options of fire ratings of 1200 degrees F for 40 minutes to 2.5 hours.

National Security by Liberty

Classic Select: Level 6 security.

Classic Plus: Level 7 security.

Magnum: Level 8 security.

Liberty Fatboy Safes

Fatboy Jr.: Level 4 security.

Fatboy: Level 5 security.

Specialty Safes

Tactical 24: Level 1 security.

Ammo Can: No security rating.

Vault Door: Up to level 8 security.
Liberty Home

Fire Rating: 60 minutes at 1200 degrees F.

Level 2 security rating.

Premium Home

Fire Rating: 90 minutes at 1200 degrees F.

Level 3 security rating.
Biometric Smart Vaults

Quick Combo Vaults

Key Vaults
Come visit R.J. Lock & Security to check out these safes in person and get expert help on safe sales and service. When it comes to keeping your valuables secure, trust R.J. Lock, proudly securing the shore for over 30 years!