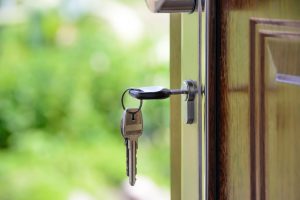 There are many instances that can leave you wondering if you should replace or rekey your locks. Whether you've moved into a new home, have a roommate who just moved out, or misplaced your keys, it's always better to be safe than sorry.
Wondering if you should rekey or replace? While both are effective methods at keeping your space secure, the experts at R.J. Lock & Security are here to provide you with the information you need about the right time to rekey or replace your locks.  
Reasons to Rekey Locks
Rekeying locks is the simpler and less expensive option compared to changing the lock entirely. Rekeying will ensure that the old key can no longer be used in the lock that it once opened because the inner key pins have been altered. Rekeying is often used in instances when you are satisfied with the current locks but want to prevent the old keys from being used.
Common examples include:
Losing keys and unaware if someone has picked them up.

Preventing someone who has a copy of the key to enter.

Moving into a new home or apartment.

Having roommates move out. 
Reasons to Replace Locks
Replacing locks can be the pricier option, but are the most beneficial in boosting your home security. Replacing the lock will remove the original completely and substitute it for an approved lock. Replacing locks can be preferable in a variety of situations.
Common examples include:
Upgrading for higher security or electronic locks.

Changing the color or design of the locks.

Different lock brands were replaced to open with the same key.

The lock itself is broken.
Now that you know which method works best for your home, we've got you covered. Contact the experienced locksmiths at R.J. Lock & Security, to provide you with the best solution to keeping your space secure. We've proudly secured the shore for over 30 years, and aren't stopping any time soon!