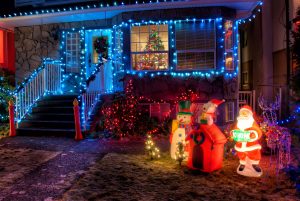 The holidays are quickly approaching, are you prepared? As you begin to bring out our decorations and plan things to do around the holiday season, don't forget to prep and secure your home! With a few quick steps, your house will be set for holiday safety, both inside and out. 
Check out the following tips from the lock and security experts at R.J. Lock, and remember to check out the rest of our Stay Safe blogs for other helpful tips for staying safe! 
Top 5 Holiday Security Tips
Water Your Tree
Do you have a fresh Christmas tree? If so, make sure that you water it regularly to keep it from drying out! Natural trees have a tendency of drying out quickly, which means that they can catch fire easily if not watered often. Similarly, if you have an artificial tree, be sure that it's fire-resistant! 
Check Your Lights
Do more than plug in your holiday lights to make sure that they work, and check your light strands for frayed wires. If you see any damage, be sure to get new lights to put out this year, as damaged lights can easily catch fire. Don't forget to unplug your lights after they've been on a while, as lights left on too long can overheat.
Keep Breakable Objects Up
Do you have glass ornaments that could shatter if dropped, or if they fall? Be sure to hang your breakable ornaments out of reach of small children, decorating the bottom of your tree with unbreakable items.
Stay Private About Plans
Are you planning a trip away? Whether you'll be gone for the weekend or a full week-long holiday, it's best to keep your plans off of social media! No matter how small your friend's list is, it's always a good idea to keep your plans off of the internet, to not welcome unwanted visitors. 
Trust a Neighbor
Do you have a neighbor that you trust? Let them know that you'll be gone for a few days and ask them to check on your home every so often. Similarly, you can ask the USPS to hold your mail and packages until you're back and park your car in the driveaway so it looks like someone is still home! 
Do you have questions on how to keep your home safe for the holidays? Contact the experts at R.J. Lock & Security with all of your security questions today!