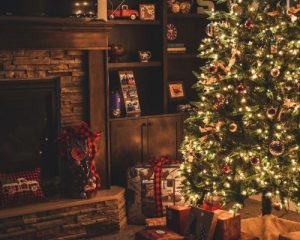 The holiday season is officially upon us, and for many, that means that less time is spent inside of our homes, and more time is spent on the roads traveling. Unfortunately, not everyone is full of good cheer during this time of year, and there are people out there who are well aware that many homes are left vacant during the holiday season, and will scope out neighborhoods looking for a home that's been left for a few days. 
In order to help prevent your home from becoming part of yet another holiday crime statistic, R.J. Lock & Security has put together a list of tips for securing your home while you're away enjoying your holiday celebrations. 
Top 10 Tips for Securing Your Home for the Holidays
Install a Security System:

A home security system truly is the best way to protect your home. Check your homeowner's insurance for a possible discount on monitor home security systems, or purchase an option that will send an alert to your smartphone should something be amiss.

Set your Lights on a Timer:

Set a few of your indoor lights on a timer, or install smart bulbs that you can program with your smartphone so you can turn your lights on and off to make your home appear occupied while you're away. 

Install Motion Sensors on Outdoor Lights:

Flood an intruder with lights and scare them off while they approach the house. 

Leave Your Radio On:

This may seem old-school, but leaving a radio tuned into an all-talk station on while you're away may scare a burglar off by making them believe that someone is home. 

Lock Doors and Windows:

Be sure that all of your doors and windows are locked when you leave your home. Start locking up leading up to your trip so you only have to remember to lock one door when you leave, or better yet check do a final sweep of the house to make sure that you are all locked up right before you leave. 

Stop the Mail and Newspaper:

Either stop these deliveries for the time that you will be gone or ask someone to pick them up daily so they don't start to pile up, making it obvious that no one is home. 

Arrange to Have Snow Cleared:

On the Delmarva, we never get much snow, but in the event that snow does show up on the radar, arrange for someone to come and clear your sidewalk and driveway. Nothing screams "nobody's home" like a snow-covered walkway and driveway that is left for hours or even days after a snowfall. 

Don't Hide a Key: While you may keep an extra house key hidden outdoors, get rid of it while you're away! In the event that someone does need to access your home while you're away, consider purchasing a smart lock and assigning a unique PIN code to each user. 
Lock the Garage:

Oftentimes, people forget about the garage. Turn off the automatic garage door openers, and use a clamp or a padlock inside so the door cannot be opened. 

Shut Down Social:

We know the urge to post fun photos of your vacation is hard to resist, but you never know who might see your posts and realize that nobody is home. Hold off on posting until you return to reduce that risk. 
Follow these tips and tricks and odds are in your favor to return home from your travels and find it exactly as you left it. For more information or help with increasing your home security, contact R.J. Lock & Security at 410-213-8477