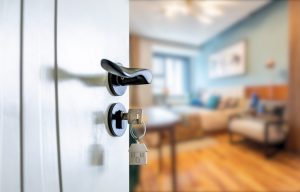 Whether you're renting, moving to a new home, or have been living in your place for quite some time, it's important to feel safe and secure. If you're looking for ways to improve your apartment door security, you're in luck. R.J. Lock & Security has these 5 tips that are sure to help you feel more comfortable in your living space.
Even if you don't have full control over the locks in your residency, there are still plenty of ways you can enhance your apartment door security. Keep reading to find out how!
5 Tips to Enhance Apartment Door Security
Choose a high-quality deadbolt to add in addition to the locks that may already be on the door. Research the different kinds of deadbolts to determine with type and grade of lock you should use on your door. The four main types of deadbolts include single-cylinder, double-cylinder, one-sided cylinder with exterior trim, and one-sided cylinder with no trim. 
A trusty lock won't do much to help you if your door is weak and in need of replacement. Strengthening the door can be done in a multitude of ways including replacing the wood frame for something more secure, replacing screws, door jams, and adding security screens. 
Maintain or Replace Locks
Depending on the condition and age of your building, your front door lock may have seen better days. It could have been many years since the locks were updated and it's always worth checking on their condition. R.J. Lock & Security's team of professionals is well versed in lock replacement and upkeep to help make sure you're as safe as possible.
While this may seem like a no-brainer, it's not always the simplest of tasks especially when there may be multiple roommates coming and going. The best way to manage this is to limit the number of keys given out and avoid hiding a spare key in obvious places like under the doormat or on top of the doorway.
Call Your Local Locksmith  
R.J. Lock & Security has been proudly securing the shore for over 30 years. We offer a variety of residential services to protect you and your belongings in your home. Trust in our team to improve your apartment door security.
Contact R.J. Lock & Security today for all of your security needs and check out our Stay Safe blog for more tips from our team!