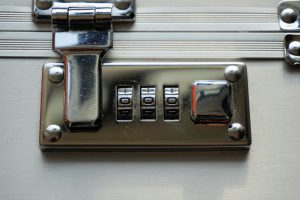 There are numerous instances or situations that can leave you wondering if and when you should replace your safe. To be straightforward it all just depends. Your safe should be reliable and secure, so maintenance and upkeep may be required every couple of years. R.J. Lock & Security, has proudly been securing the shore for the last 30 years and we're happy to help answer all your questions about your safes maintenance! 
Maintenance for Your Safe's Lock
There are different kinds of locks for your safe, and both require maintenance and need proper care in order to secure your valuables and function correctly. Combination and electronic locks are both excellent choices when deciding what to use for protecting your possessions, they are secure and easy for users to work with. 
Combination Locks
Combination locks have been around for over 100 years and are very reliable when it comes down to securing your items, with correct care they will last users a long time. They can also be ordered with a key-locking dial so the dial is prohibited from being manipulated and spinning freely which could later cause damage. If the combination becomes lost or stolen a locksmith will have to come to change it. R.J. Lock & Security offers this service and is happy to help with all of your combination lock issues or questions. If a user wants to change the combination, a locksmith is also required for this process.
Electronic Locks
Electronic locks are more modern and a bit more expensive compared to combination locks, but users tend to think they're more convenient. However, they do require maintenance, the batteries will need to be changed every year and technological difficulties may occur. If an incorrect code is entered multiple times, normally the safe will go into a "lockdown mode", making sure no one gets a hold of your belongings. With that being said, that includes you as well so be sure to have your combination memorized or written down somewhere. If you ever do find yourself in this situation, contact R.J. Lock & Security. Some electronic locks allow multiple codes or give users access to change the code whenever they please. 
Continual usage of any product will later lead to wear and tear, that's why it's important to regularly check on your safes maintenance and restore when necessary. Now is the perfect time to restore or replace your safe! This is the gift that keeps on giving, keeping your most prized possessions safe from burglars, fire, and much more. Ring in the new year the right way by ensuring all of your valuables are protected and secured with R.J. Lock & Security!