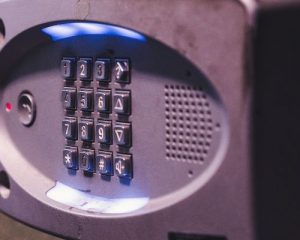 There's no denying the fact that choosing the right smart lock can make your day to day much more convenient! Being able to have the freedom to come and go without worrying about getting locked out or forgetting your key is a major relief for many busy families and business owners. But how do you know that you're choosing the right lock to keep your valuable belongings safe and secure? At R.J. Lock we provide you with insider information so you can be sure that you're making the best decision when choosing a smart lock for your home or business. 
At RJ Lock we are the industry experts in security for your home or business, and we know that many products that are being sold today as "the best of the best" are leaving millions of people across the country vulnerable to break-ins! While we agree that smart locks are a good investment to make to your home, we also believe in the importance of doing your research before you purchase! 
Electronic locks are sold by the millions year after year, leaving millions of homes and businesses across the country vulnerable to a host of issues. Many of the electronic locks on the market today are wifi enabled and do not have an override key function. These locks inevitably fail because of battery failure. Since these locks are wifi enabled, they need to consistently be connected to your home or businesses wifi network. This means that your wifi will need to constantly be on for you to be able to remote access the lock. Many homeowners do not realize this at the point of purchase and do not have the data available to host their lock on their homes wifi 24/7. The smart lock being consistently connected to wifi causes the lock battery to die more quickly. If the battery dies, there is no override key function to access your home or business. This leaves you to have to drill the lock to get in, and inevitably, destroy your lock in the process. 
At RJ Lock and Security, we urge our clients to protect their homes and valuable possessions and purchase the Schlage BE635 or the Schlage FE595, instead! The Schlage BE365 is a deadbolt lock, and the Schlage FE595 is a lever lock. Both locks have been tested against the best to provide you with the confidence and security that you need to keep your possessions safe. The deadbolt lock keeps your door secure, while the keypad allows for easy operation so you never have to worry about leaving your key behind again! While these locks are completely different, they both offer maximum protection, as well as an override feature that allows you to be able to get into your home, office, or other locked space. These locks are also not wifi enabled, so you never have to worry about your wifi failing or being turned off to get into your space.
In addition to the great security features that come with the Schlage BE635 and FE595, with both locks you are able to set up different codes for different members of your family or employees. For example, you can set up a personal code for yourself, and give an employee a separate code if they need to get into the office after hours, that you are able to change at any time! This feature allows you to keep your personal code safe while giving others access to your building. Schlage locks are well made and easy to operate, giving your security the boost that it needs!
To install an electronic lock for your home or business, or for more information, contact R.J. Lock & Security at 410-213-8477!