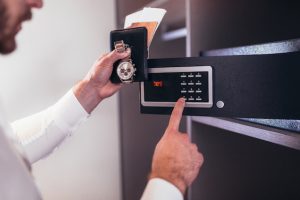 If you've already gone through the process of choosing the best safe for your home and belongings, the next step is learning about the safe accessories you didn't know you needed! Add an extra layer of protection, features for convenience, and much more.
At R.J. Lock & Security, our team of experts is here to teach you about some of the best safe accessories you should consider purchasing for your valuables. 
Safe Dehumidifier
Environment control is very important in your safes. The first kind of dehumidifier is an added permanent dehumidifier that uses AC power. The device will slightly heat the air inside the safe, causing the air to expand and moisture to leave the safe.
If it's too tough to coordinate AC power to the device, there is another option of rechargeable dehumidifiers. These cordless devices work to absorb moisture from inside the safe as long as they are charged. To recharge, simply let the device dry out, and charge it overnight to be ready to work again in the morning. 
Safe Power Outlet Kits
Add power inside of any home or gun safe with outlet kits. This safe accessory is perfect and convenient for charging electrical items from inside the safe itself. Installation is quick and easy with pre-wired power outlets and usually includes multiple outlet plugins and/or USB ports. These are beneficial when you are looking to utilize other accessories such as lights and dehumidifiers, or charge items like laptops. 
Safe Light Kits
A safe light kit is helpful to illuminate and light up the contents of your safe when it's opened. There are many options of LED lights for your safe including battery-powered light kits, lights that are plugged in, motion-activated lights, and more. 
Safe power outlet kits make plug-in lights convenient to use, but battery-operated LEDs work just as effectively when there is not an easily accessible outlet to work with. Added motion sensors make some safe lights activate only when the safe door is opened for discreet use. Lock lights are another useful accessory that fits on or near the dial of your safe for easy access to your safe's controls.
Safe Covers
Whether your safe is used for holding valuables, important documents, guns, or more, it's not ideal to have them sitting in plain sight. For extra protection, safe covers are often utilized to conceal safes from sight. Covers are made from lightweight material that is designed not only to conceal the safe but also to protect it from dust and debris. Coverings still allow for quick and easy access to the safe and its controls. 
Curious about safe accessories and how they can benefit you? Contact our team of experts at R.J. Lock & Security! We offer a full range of safe sales and services for our customers around the Eastern Shore. Learn more about our services today and rely on our team for all of your locksmith needs!