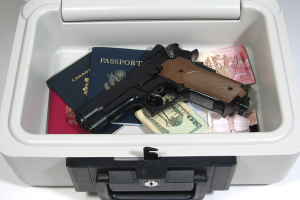 Having any safe is beneficial to protecting your valuables. When shopping for a safe, there are many things to consider, but today we're focusing on one kind in particular. Why should you own a fire safe? 
At R.J. Lock & Security, our experts are focused on keeping you and your valuables safe and protected from variables like fires. Consider what the best fire-rated safe is for you and your home or business with some of the top benefits. 
Benefits of Fire Safes
Restricted Access: This main benefit applies to most safes including a fireproof one. Keep your valuables or items like firearms and things harmful to children or pets, locked away where the wrong hands are unable to reach them. Plus, intruders will not be able to access the contents inside. 
Extra Protection: Unlike other safes, a fire-rated safe offers far more protection for your valuables. Besides theft, fire safes protect against fire outbreaks, flooding, and other environmental elements. Fire ratings vary so be sure to check the factors that determined the rating to see if it matches your needs. 
Insurance Benefits: Looking for ways to lower your insurance rates? A fireproof safe may do the trick! Owning a safe with a fire rating lowers the chances of burglary or damages to your possessions and lowers the likelihood of insurance claims. 
Versatile for Your Needs: They are many kinds of fireproof safes to suit your needs. Whether you're using a safe in your home or workplace, there are different fire ratings as well as a variety of sizes to fit your valuables. Digital safes, key lock safes, gun safes, pistol boxes, under-the-bed safes, and more. 
Make sure you find the best safe for you! Visit us at R.J. Lock & Security to learn more about owning a fire safe and don't miss out on any of the benefits.