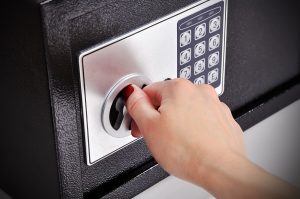 There are many things to consider when buying a safe for your home or business. The first step when shopping for a safe is to think about your individual needs. RJ Lock & Security can help navigate the many ways to evaluate safes, including determining the size of the safe, lock type, fire resistance level, and brand.
Ways to Evaluate Safes
Size of the safe
There are many types of safes to choose from, and the choices can be overwhelming. Once you decide on the use and location for the safe, you can begin to narrow the options. The size of safes on the market is measured and characterized by length, width, height, and weight. It is important to think through the safe's placement to match the size of the safe to the opening in your home or business for installation.
Type of Lock
Depending on your needs, the next feature to consider is the type of lock. Key locks are simple, and if you're used to carrying keys, this is a great option. Key locks are also great if you have trouble remembering passcodes and combinations.
Electronic or digital locks allow you to open the safe after entering a code on a keypad. This lock type would be best if you don't like to carry keys around or fear losing the key to your safe.

Combination locks are a common type of lock for many safes. They have many combinations making it incredibly difficult for someone to guess the code and break into the safe.

Biometric locks require a fingerprint to open the safe. These modern locks scan your unique fingerprint and prevent others from accessing the safe.
Fire Resistant vs. Fireproof
Fire resistant and fireproof have different meanings, especially when retailers market the safes to consumers. These terms are both used when describing safes—the important thing to look for is the U.L. (Underwriters Laboratories) Class of Fire Protection rating. U.L. ratings represent the highest quality product and level of protection.
Respected Brands
Choosing a high-quality brand is necessary when evaluating which safe to purchase. Make sure to investigate the range of types and price points across the suite of brands like Gardall, Liberty Safe, and American Security.
Gardall Safe Corporation is a well-known large-scale manufacturer providing premium quality safes. They have built the toughest and most secure safes for decades. Customers can find a range of options from residential, commercial, and small business safes.
Liberty Safe started in 1988 and has since manufactured its high-quality products in the United States. Their unique manufacturing process includes fire testing their products, guaranteeing them industry-leading fire protection. They are known for their standout quality of heavy-duty gun, home, fire, and commercial safes.
American Security has been a provider for over 75 years and specializes in safes for national and international business and home buyers. American Security has an extensive list of safes for personal or business needs.
RJ Lock & Security is here to provide you with expert knowledge and experience to assist with buying a safe.  If you think about your individual needs and follow the basic guidelines, your buying decision will be much easier. Visit us at RJ Lock & Security for additional information and check out our wide selection of safes from respected brands!