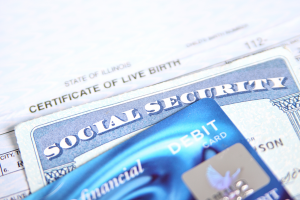 It's always a good idea to have a safe to protect valuables but often times people might forget or overlook what to store in a safe. At R.J. Lock & Security, we are safe experts and are here to help you determine what you should store in your safe and what you should not. 
Depending on the size of your safe, you'll want to prioritize what needs to be kept secure and consider any special requirements for items like fire protection. Let's start with what you should keep secure in your safe.
Many people use safes to store important documents like birth certificates, wills, marriage licenses, social security cards, etc. This will keep them in a secure spot, safe from fire and environmental damage like water. It's always important to make copies of these documents as well and keep them in a separate area for extra coverage.
Emergency cash and debit/credit, or key cards are all susceptible to fire and usually have valuable and personal information on them. Keep them out of harm's way by storing them in your safe when you don't need them.
It's easy to forget security measures and leave valuable jewelry out on your vanity or nightstand. Store these precious items properly and don't leave them open to theft or damage. Keep the safe or locked jewelry box in an unassuming spot to protect them even further. 
What Not to Store in a Safe
Some medications are high targets for theft like Adderall or Oxycontin. These should be kept locked away in a safe until needed. However, emergency medications like Epipens and insulin should be kept out of reach from children and in an unassuming location, but still easily accessible in case of an emergency.
Having your passport accessible comes in handy if you ever lose your primary identification like your driver's license. Even if you're not one for a spontaneous trip, you may be surprised by the necessity of a business trip or caring for a loved one out of the country. 
Your safe is meant to keep items protected from environmental damage and theft. Any perishable items could rot and destroy the other contents like valuable papers if they are left locked up for too long. 
Now that you know what you need to put in your safe, let R.J. Lock & Security help you find the right safe for you! Contact us today to secure your home in the Delmarva area.