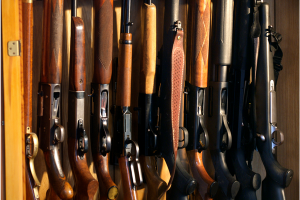 If you're looking into buying a gun safe, there are many things you should consider before jumping into your purchase. With the correct research and R.J. Lock & Security's buying guide for gun safes, you will be equipped with the right knowledge to buy the safe that fits your needs.
Visit our store and find the best gun safes in the Delmarva area! But first, here are 5 things to think about before purchasing your safe.
5 Things to Consider When Buying a Gun Safe
1. What It Will Be Used For
Is your safe going to strictly house your guns or are you looking for something that is more multi-purpose for your valuables as well? There's also the difference between a gun safe, which is smaller, and a gun locker which is much bigger. Determining what will be stored in the safe helps you narrow down the qualities you need. This could include things like size, waterproofing, fire ratings, and theft protection. 
2. Where You Will Put It
There are many shapes and sizes of gun safes to choose from so before buying, plan out where will install it. Take appropriate measurements of the space to know what will fit. If you're looking for accessibility, maybe a safe in the bedroom is your first choice. Needing a large safe with storage space might work better to be placed in a garage or basement, but still tucked away from prying eyes. 
Safes can be very heavy and without the proper installation, can damage your home. Make sure your safe is installed by a professional. Reach out to our expert team at R.J. Lock with any questions!
3. Protects Against Fire & Theft
Your biggest worry for your guns might be theft and security but investing in a good fire-resistant safe is always beneficial. That way, any other valuables you have room to store like money, documents, etc. have an extra layer of protection in case of fire or extreme temperatures. 
4. Kind of Lock 
What kind of lock do you want on your safe? These differ based on preference, security rating, and visual appearance. Standard spin dial locks are still commonly used if you're looking to go a traditional route. Electronic safe locks are the modern, most secure, and easily accessible type of lock to have on your safe. These will also include a fail-safe mechanism in case the battery dies so the door stays locked until it is fixed. 
5. Choosing a Brand
Choosing a safe can be overwhelming with so many gun safe brands and manufacturers. Quality is the most important factor and R.J. Lock & Security only supplies the best safes around. R.J. Lock provides quality safe brands like American Security, Liberty Safe, and Gardall Premium Quality Safes.
When picking out your gun safe, turn to R.J. Lock & Security as your local experts for everything you need. Shop our variety of high-quality brands and speak with a member of our team to find the safe that fits your needs.